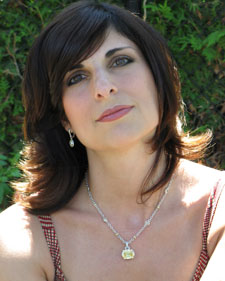 Dear Reader,
If you'd like to know a little about me, then you've come to the right place.
My name is Anne Hope and I live in Montreal, Canada with my husband, my two inexhaustible kids, my cat and a school of shamelessly multiplying guppies. When I'm not chairing the next PTA meeting or driving my little bundles of joy to school, gymnastics, karate, soccer practice and any other activity you can imagine, I'm writing books.
I've always had an overactive imagination. As a child, most of my days were spent creating characters and weaving stories together. When I was eight, I wrote my first book. Unfortunately, there were more illustrations than there were words and I forgot one very important element—conflict. Sadly, that book never saw publication.
After a series of stories featuring enchanted houses, alien girls with supernatural powers and children constantly getting lost in the woods, I decided to try my hand at my first romance novel, which I entitled Endless Love. Endless Love was a poignant, fascinating family saga best suited for daytime television, complete with characters coming back from the dead. As valiant as this first attempt was, this unfinished manuscript now sits—nice and snug—in a drawer beneath an impressive blanket of dust.
At this point in my life I decided it was time to start taking my future seriously and put some thought into finding a career I could actually make a living at. And so began my journey into the riveting, cutthroat world of business. After earning a BComm from Concordia University and an MBA from McGill University, I landed a job as an account executive in a marketing agency. But as interesting as this field was, writing still called to me and I spent many hours penning my first contemporary romance, Beyond Earth and Sky, on the company computer.
Beyond Earth and Sky was the story of a spirited account executive who fell in love with her arrogant, sarcastic, hard-driving boss. Please note that this story was in no way, shape or form based on a real life account. My own boss—great guy that he was—had an eccentric streak as pronounced as his belly, was a throwback to the hippie era, and liked to walk around in a floral-print dress without the benefit of underwear (don't ask).
Beyond Earth and Sky, as dear to my heart as it was, ran about eight-hundred pages long and was written in the first person (a big no-no in the romance industry back then). Still, I'd reached an important milestone—I'd completed my first full-length manuscript.
Shortly after that, I left the marketing agency and became a product manager for Neutrogena, where I was responsible for marketing strategy as well as writing copy for magazine ads, packaging, press kits, and various promotional materials. Again, my passion for writing spilled into my work and I realized my dream of being an author would never see the light of day if I didn't actually pursue it. So I quit my job and decided to learn everything I could about the publishing world.
In the following years, I wrote two contemporary romances—Tell Me No Lies and Where Dreams are Made (then entitled Finding Home)—both of which met with impressive success, placing in numerous Romance Writers of America (RWA) contests and receiving positive feedback from contest judges. Tell Me No Lies placed fourth in the RWA New England First Kiss Contest and second in the Ottawa RWA First Meet Contest, where it was commended for its voice, dialogue, descriptions and innovativeness.
Where Dreams Are Made was even more successful, placing first in the Ottawa First Meet Contest, second in the RWA San Francisco Heart to Heart Contest and was a finalist in the Barclay Sterling Awards Contest. Most exciting of all, Where Dreams Are Made was selected as a Golden Heart Finalist in the single title category.
Many years and several attempts later, my dream has finally become a reality. Where Dreams Are Made—the story of an impoverished woman on the brink of being forced into prostitution who falls in love with the scarred, reclusive toymaker she was hired to befriend—has been bought by Samhain and will be released both as an e-book and in print.
I thank you for your interest and deeply hope you enjoy reading my stories as much as I enjoy writing them. My goal is to provide my readers with as many enthralling characters and captivating storylines I can dream up. Characters who are refreshingly human—flawed but with an innate sense of integrity that allows them to rise above their weaknesses and fears. And storylines that feature the redeeming power of love, with an emphasis on the heart's ability to rise above adversity and heal.
I hope you will join me on this thrilling new journey, and I promise to do my best to keep you thoroughly entertained along the way.
Warmly,